About Lady Kat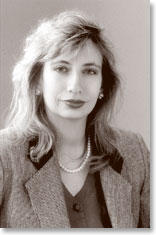 Everyone wants to know why the studio is named Lady Kat. I always enjoy telling this romantic story. Seventeen years ago when my husband and I were dating, he wrote me a poem called, "To My Young Lady Kat" and so when we opened the studio in 1990, the name was a natural.
I have been photographing the most important events in my client's lives since I have been 17. My photographic background includes a degree in photography from Fashion Institute of Technology and many awards on the national, regional and local level from the Professional Photographers of America for wedding, portrait and creative images. During my 25 year career, I have been blessed to have become the family photographer for many clients. First the weddings, then the family portraits and further along, the bar/bat mitzvahs, communions, confirmations and sweet sixteens. It is so rewarding to see how the lives of my clients have evolved and to be a part of so many happy occasions. One of my unique specialties is glamour and boudoir photography. As a woman, nothing gives me greater pleasure than to hear my clients express their delight at seeing themselves in a whole new way.
This is the most exciting and revolutionary time in photography since color photography became popular in the 1960's. The digital revolution is allowing me to realize the creative dreams I had as a teenager discovering photography. I hope you enjoy the images on these pages. Please call me at (516) 379-5604 for further information on helping you create the photographs of your dreams.